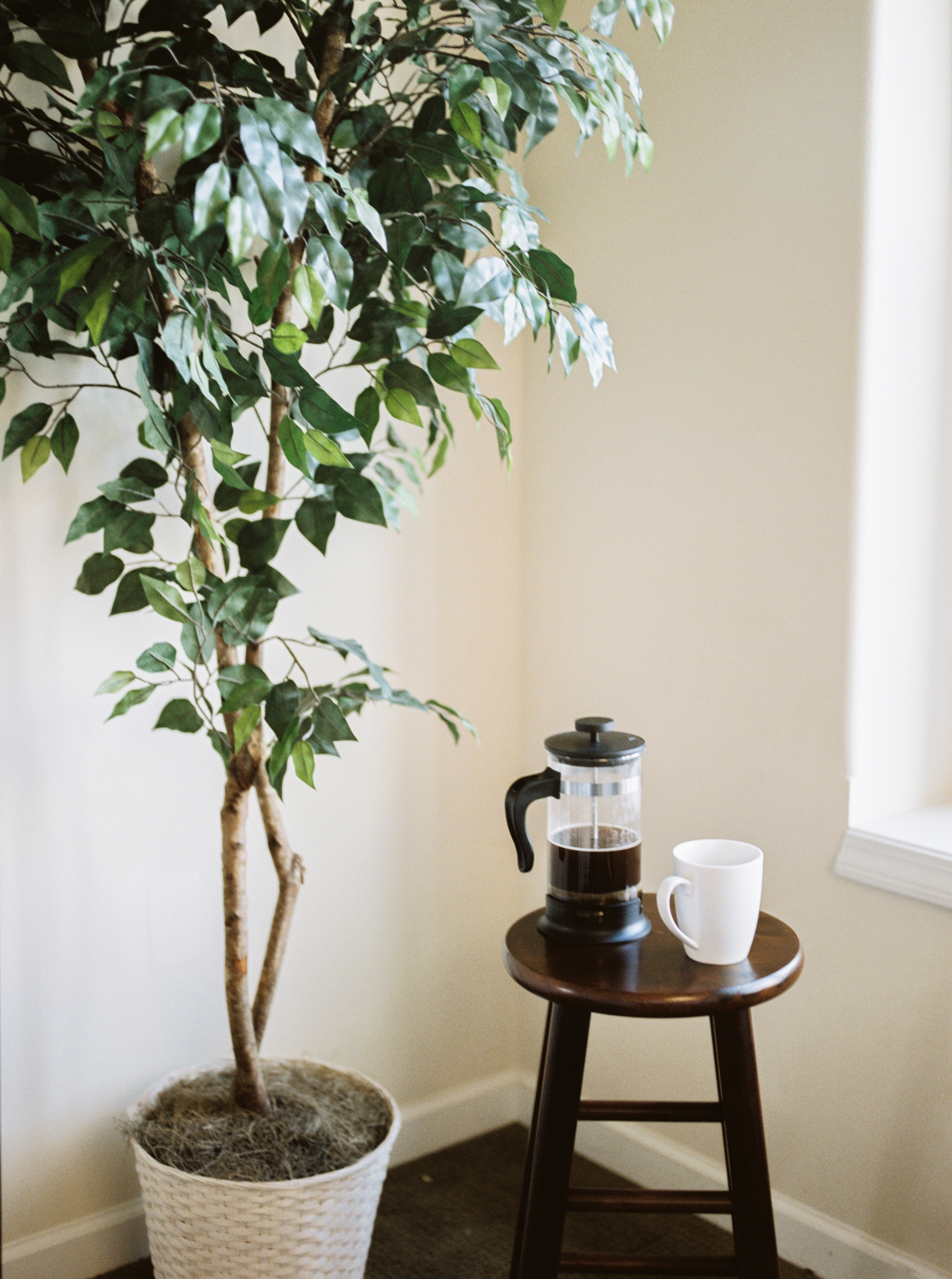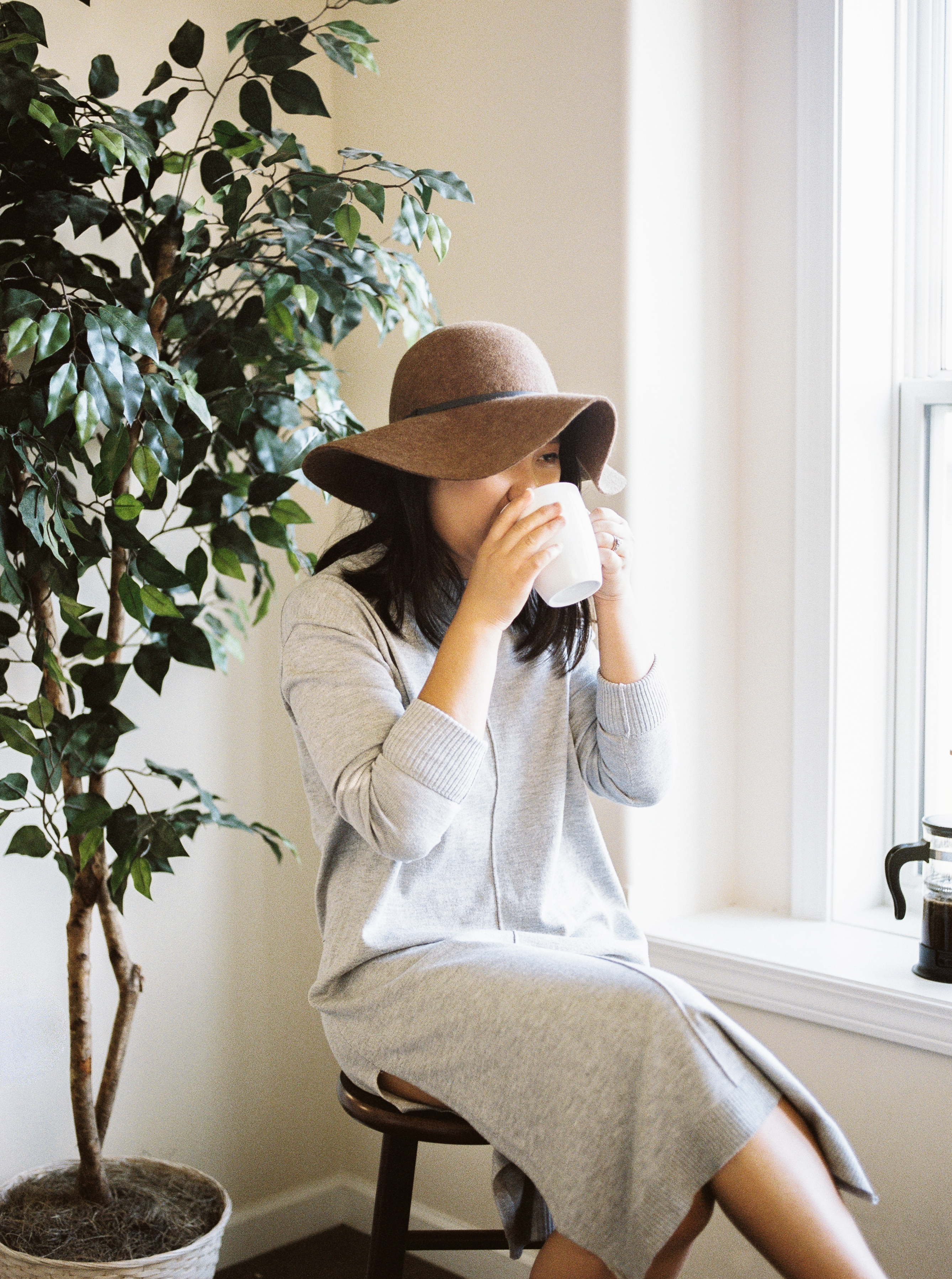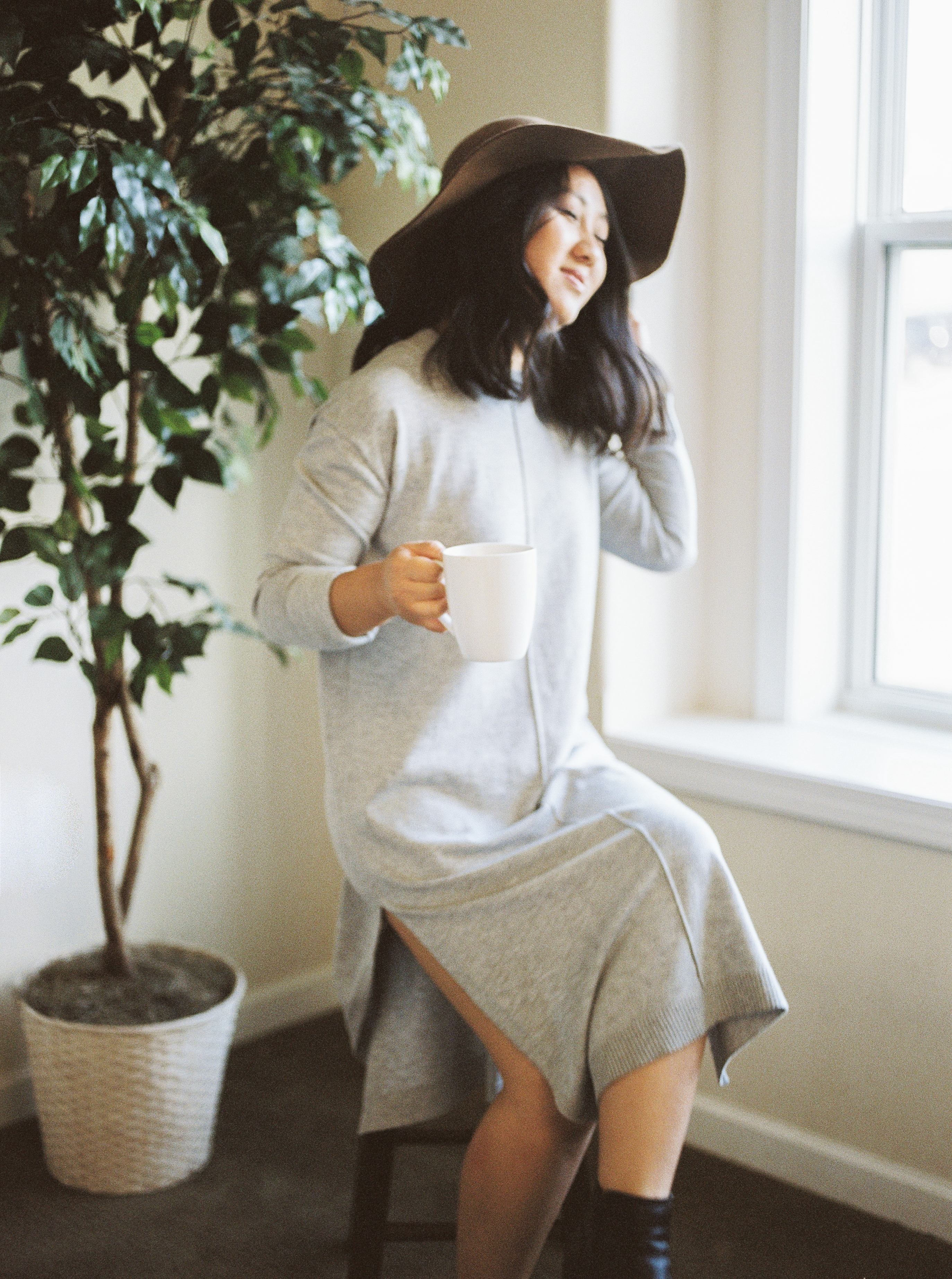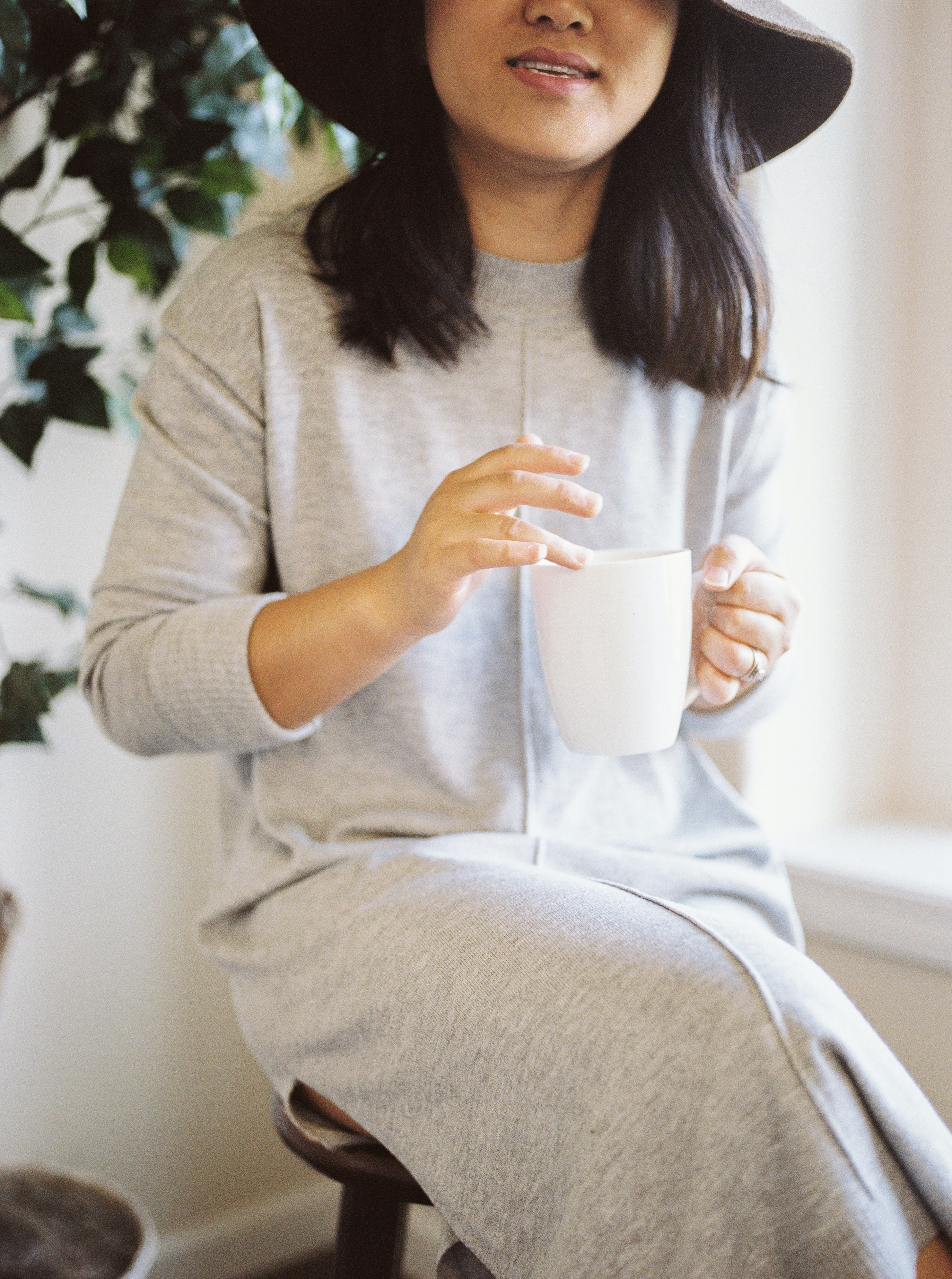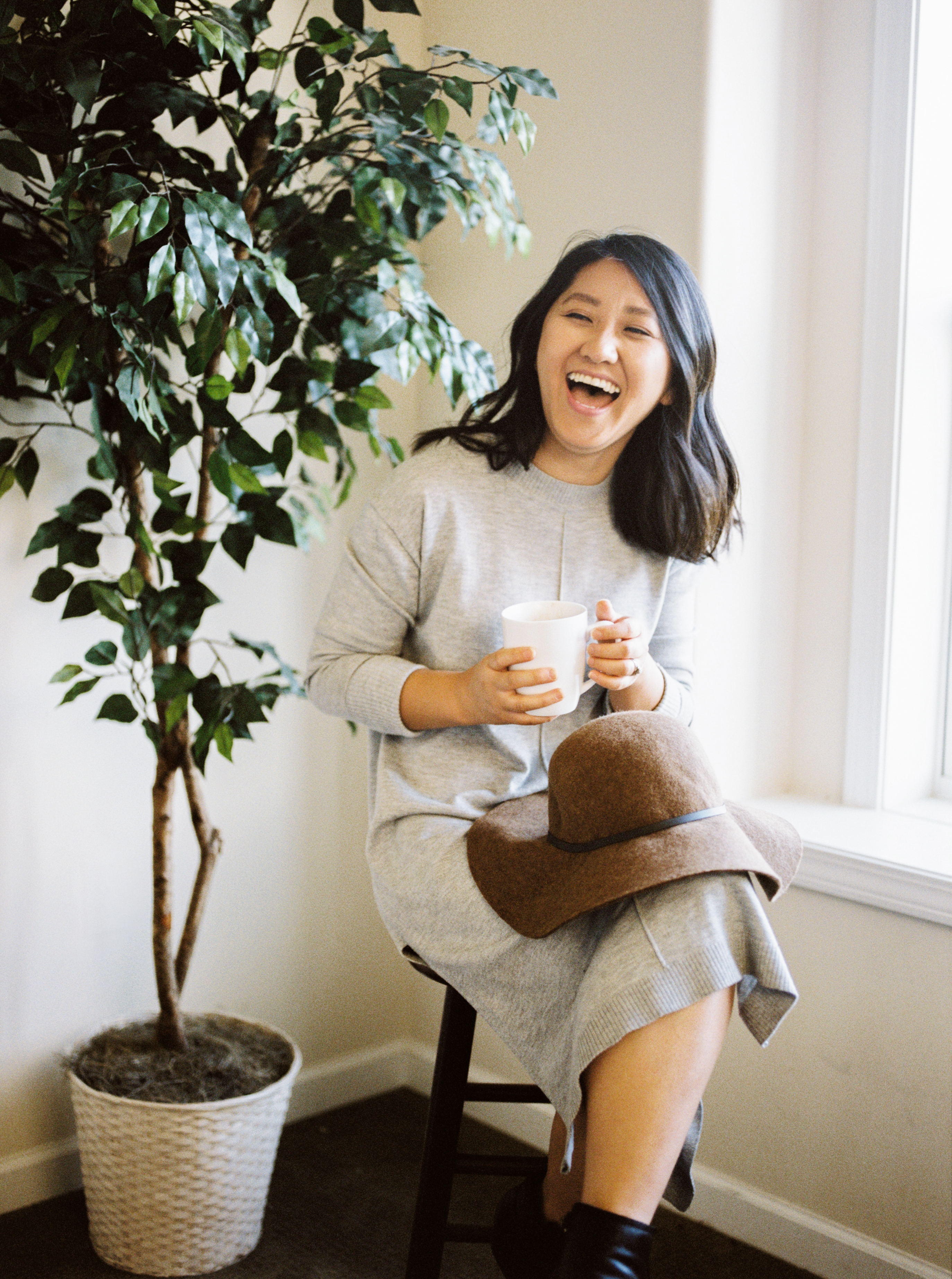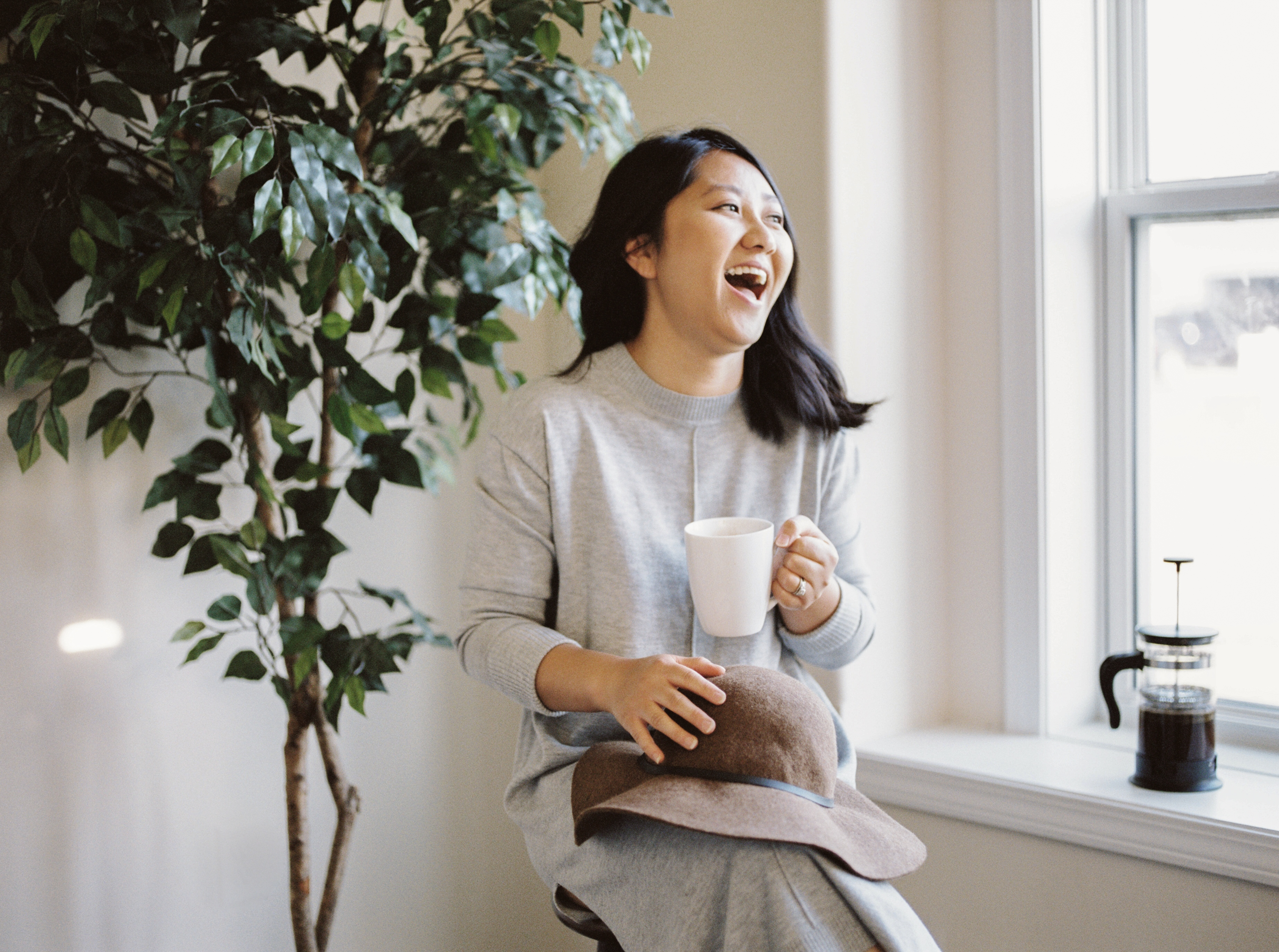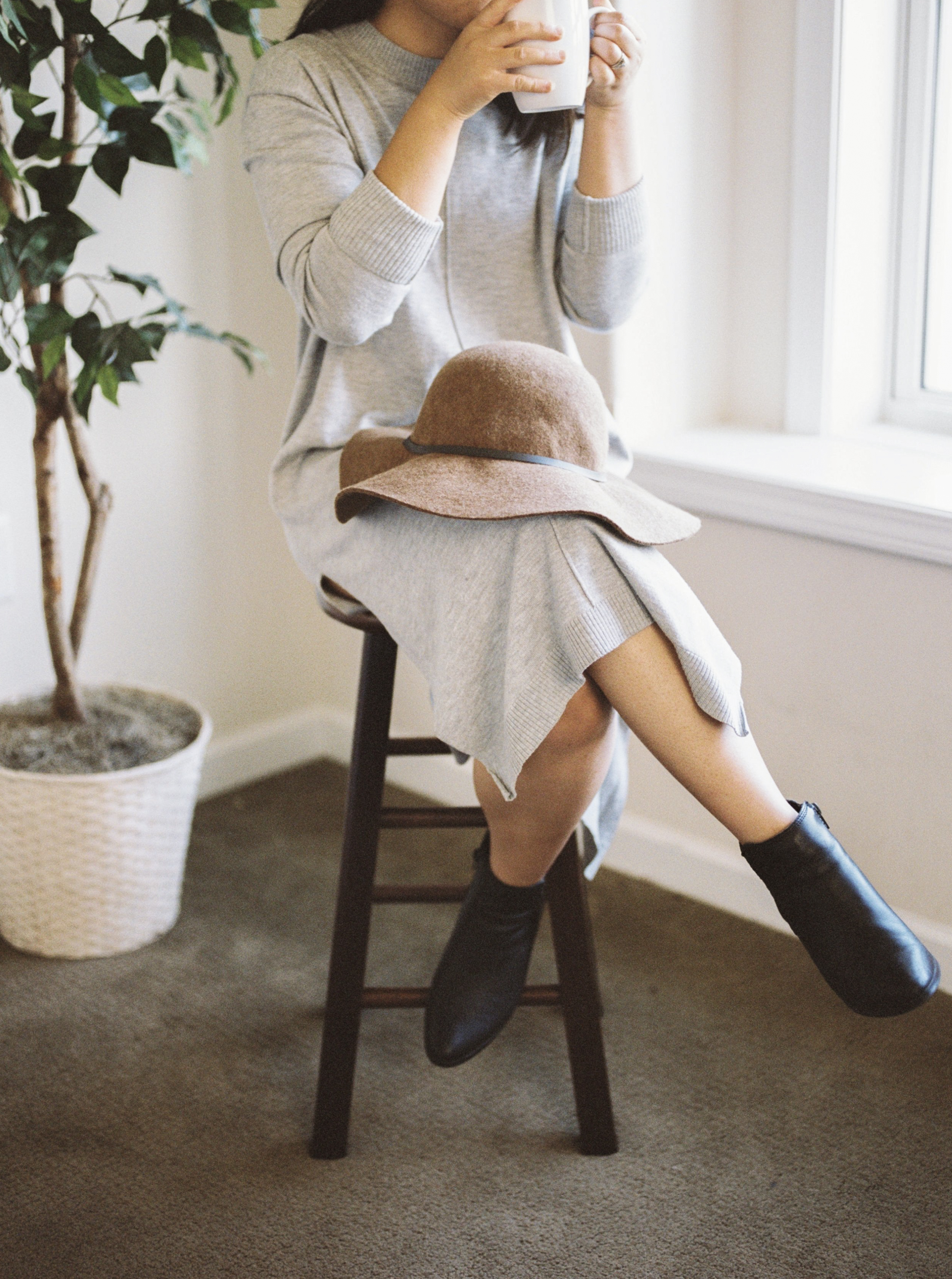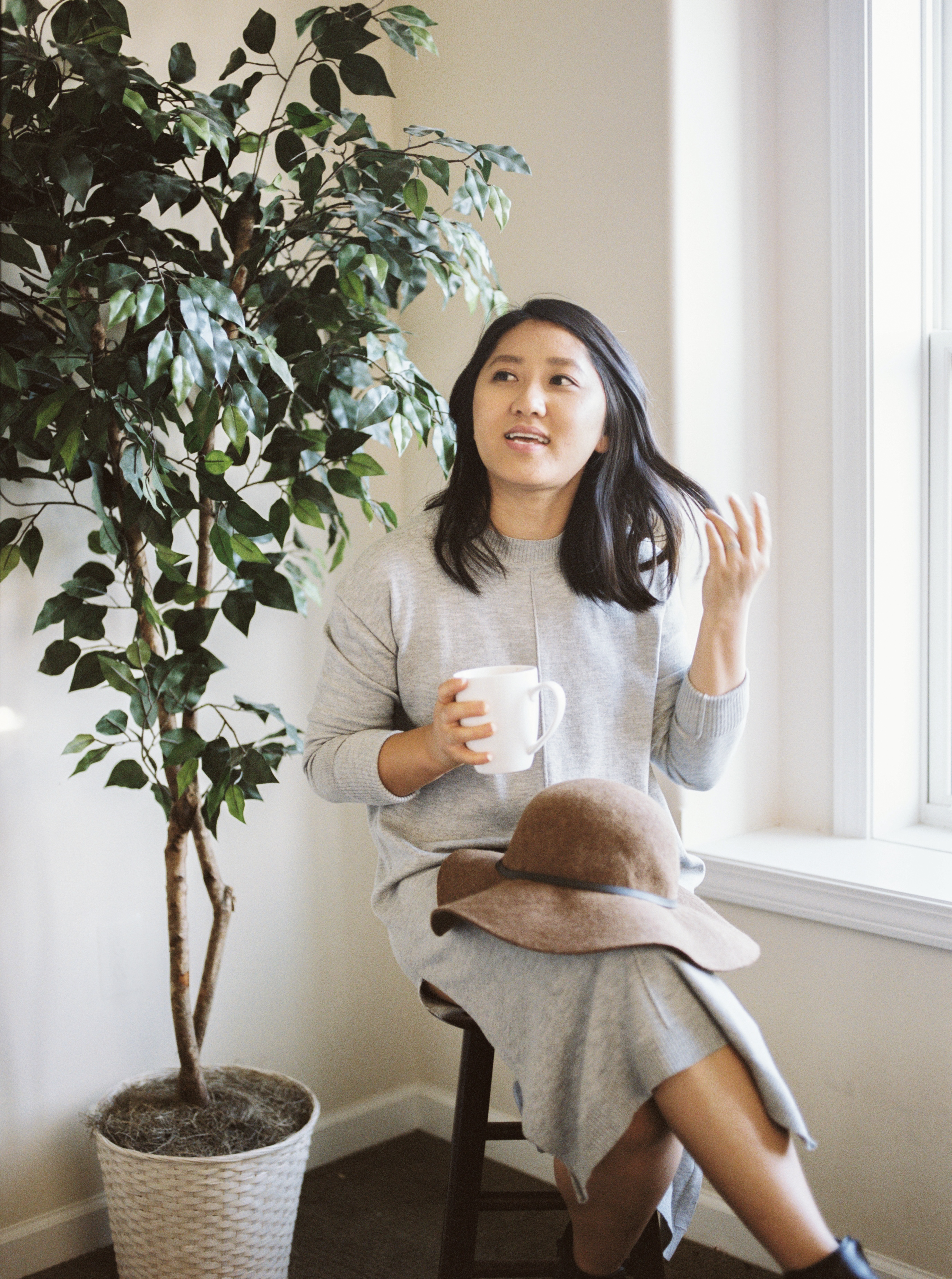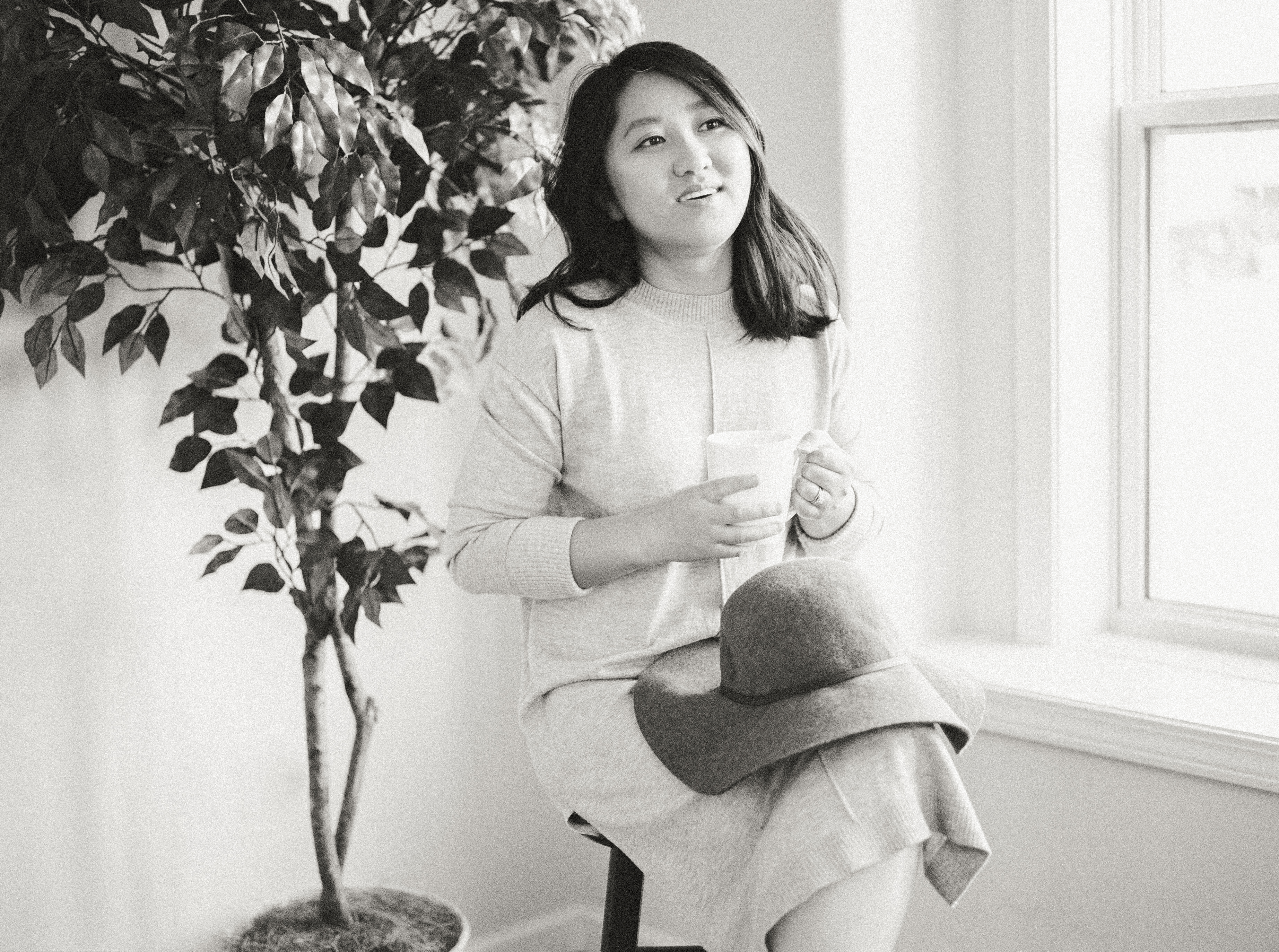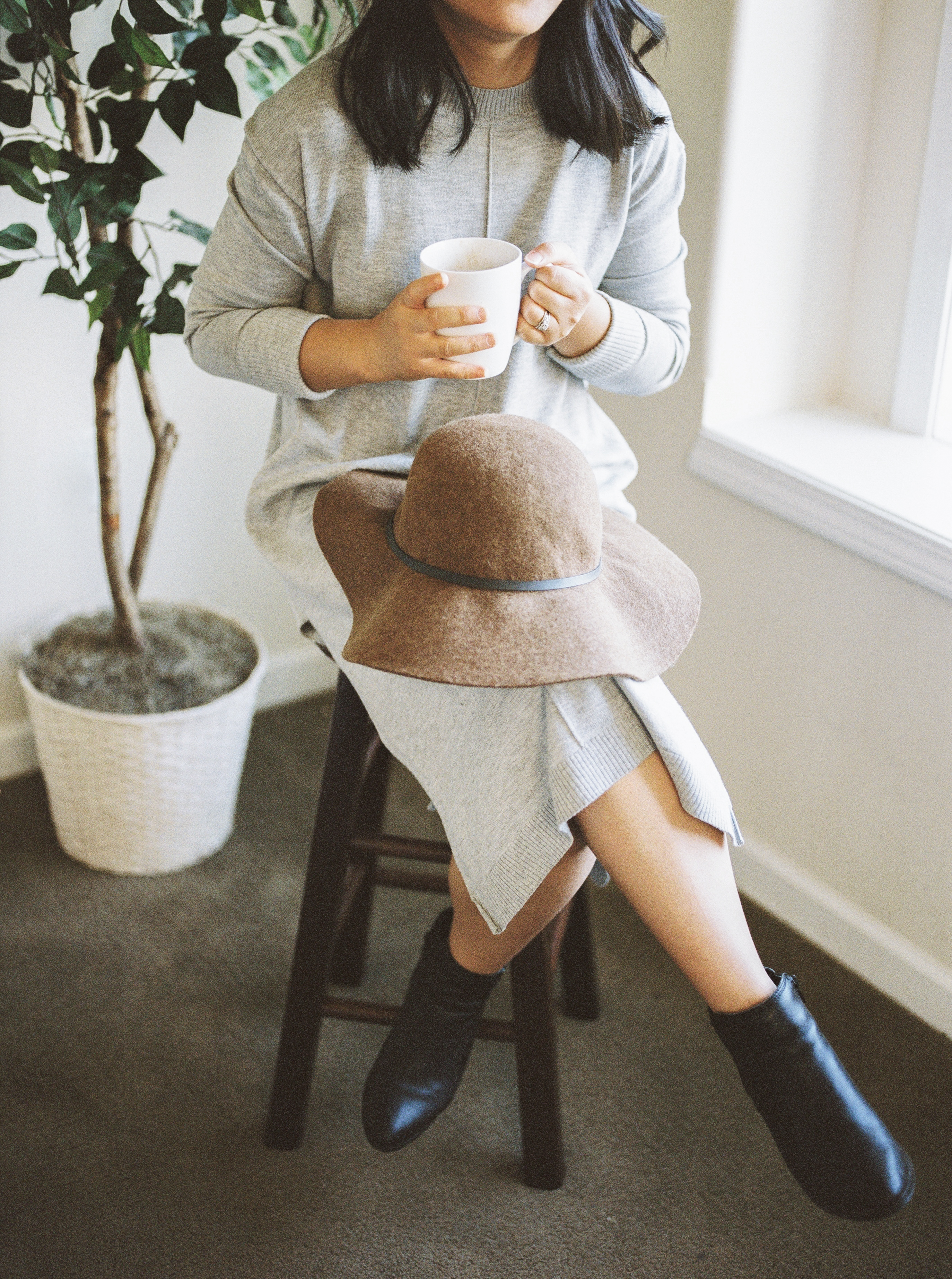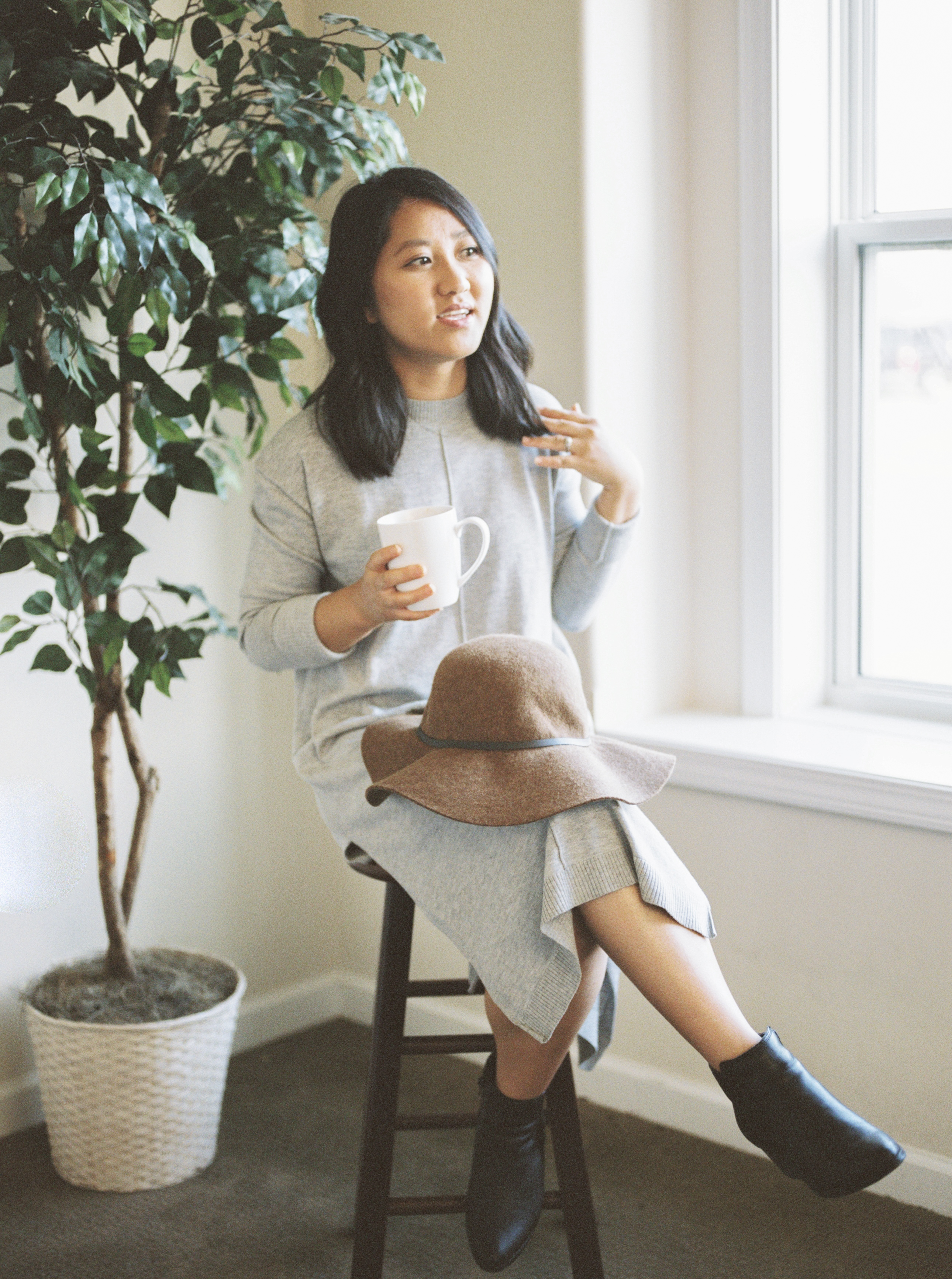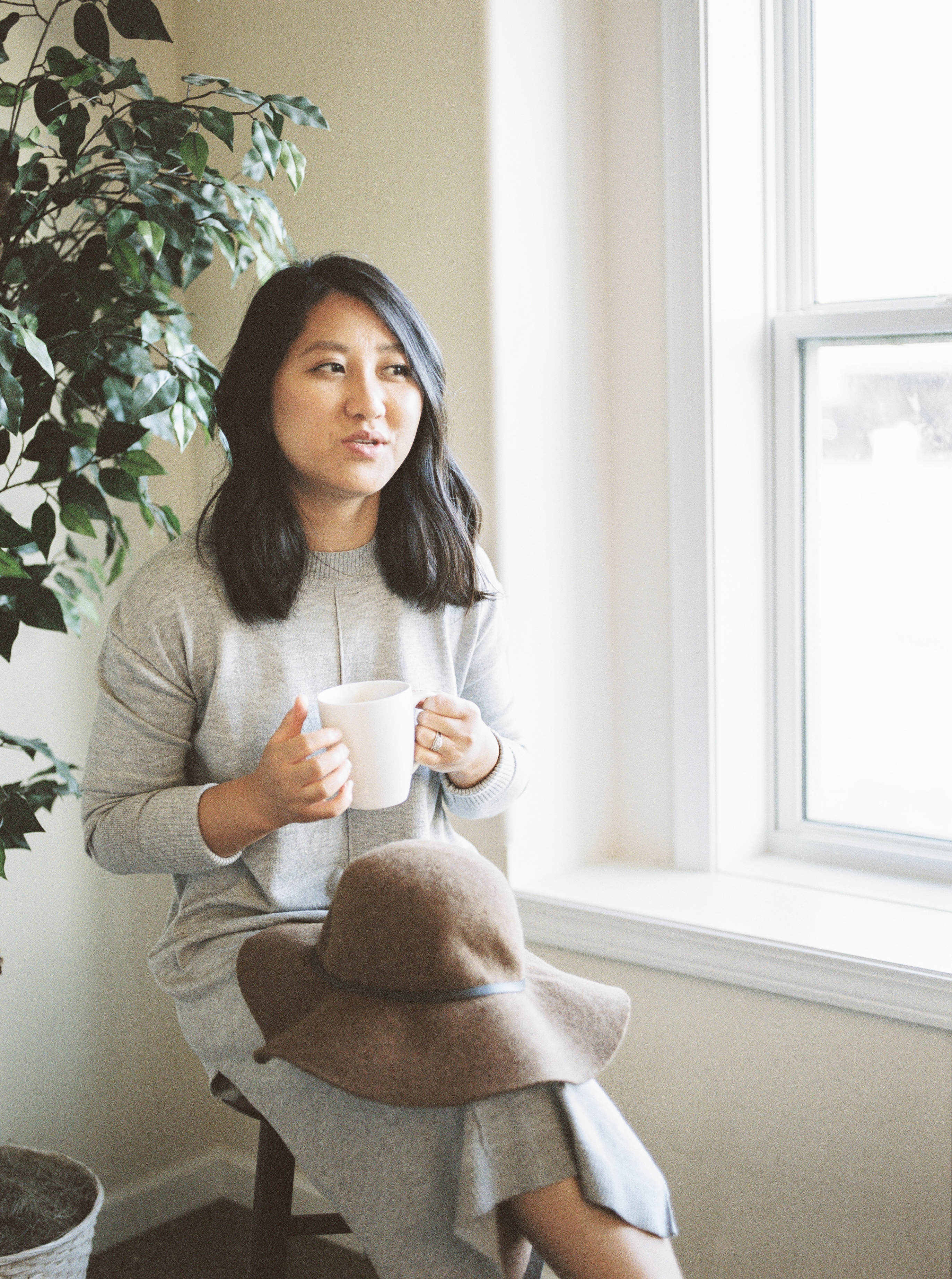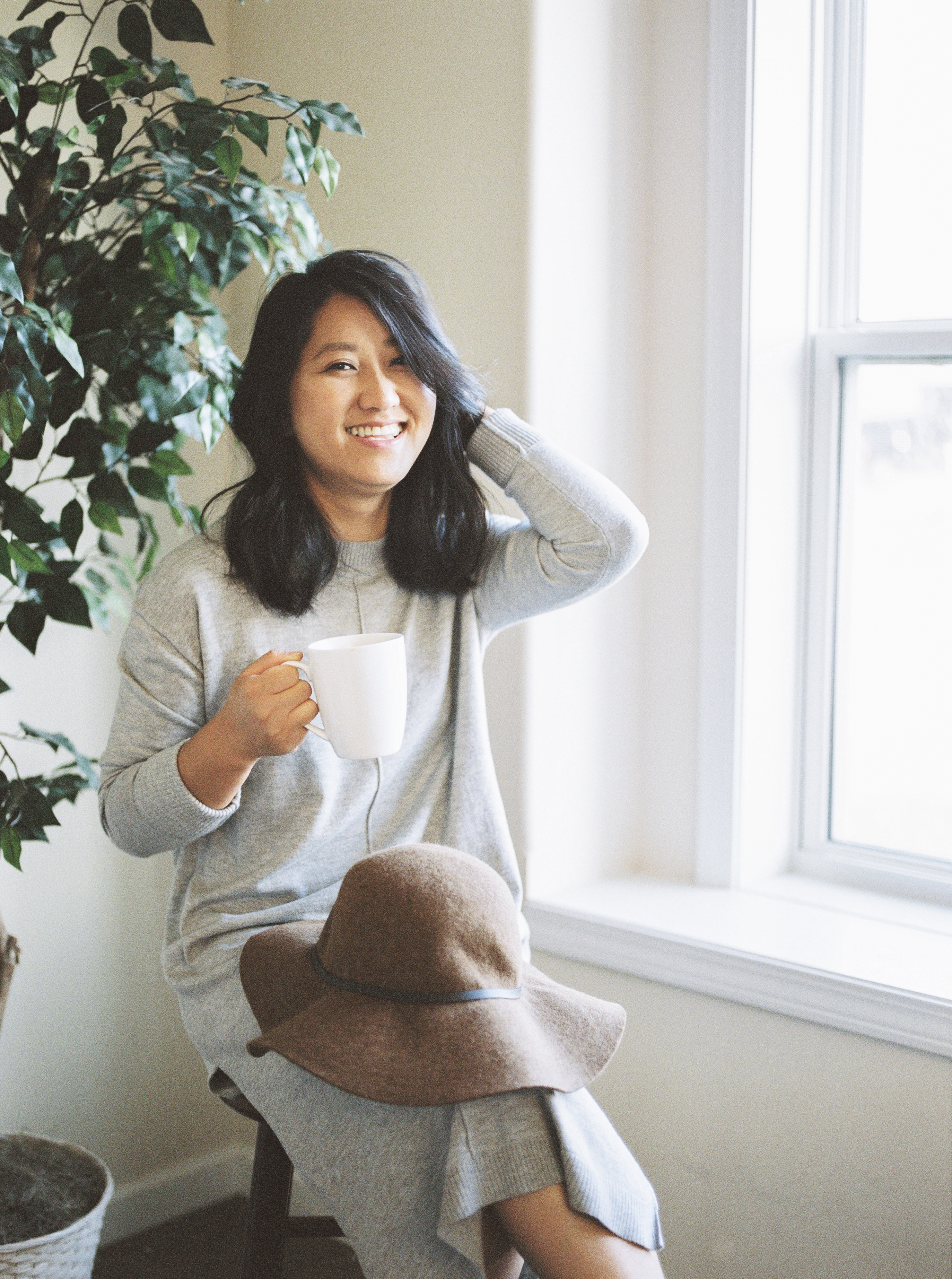 I'm so excited to share my second project of Coffee Musings. This project has taken off and been received by everyone way better than I had anticipated. It's a pretty amazing thing to have an idea in your head, create it, and see how it positively impacts the people around you. What a gift it is to be a creative. This edition of Coffee Musings came shortly after I had received the film scans from my session with Andrew. I loved how the images of him came out so I knew I wanted to photograph another person right away. Mai Ka had contacted me about doing a few headshots for her upcoming photography website and when I presented the idea of her joining me on this project she was completely game for it.
Once again I used this opportunity to take a step out of my comfort zone and shoot differently. Typically if I'm shooting indoors in my office I would prefer to shoot in the afternoon time when the office gets the most amount of light but because Mai Ka and I couldn't get together until late afternoon I had my office in a situation where I'd never shot before. On the opposite wall of where Mai Ka sat there was a window that we were getting a large glare from the setting sun. In order to hide the harsh light, Andrew helped me tape a baby blanket over the window to diffuse some of the harsh light. We work with what we got. If you look closely, some of the pictures have a ray of sun that happened to sneak out from behind the baby blanket and hit the wall to the left of Mai Ka.
Another step out of my comfort zone was shooting Fuji400H pushed. Because we shot so late in the day I needed to up my ISO and where I would typically shoot this film stock at 200 I shot it at 800 and had my lab push it one stop in development. Just like how I pushed Portra with Andrew, I really loved how grainy and punchy pushing Fuji looks and I'll definitely be doing it again in the future. I wanted to change things up scenic wise for this project, with Andrew I shot in my office with a completely bare white wall as our background. But just to the right of that wall is a huge window that looks out to the front of our house. I love this window so much and it's one of the things that I fell in love with when buying our home a few years ago so I wanted to add in a few of the details of this window as well as a big ass fake plant into the pictures to get a more cafe and homey feel to the images.
Mai Ka
Mai Ka came by my house around 6 pm on a sunny weekday afternoon. While we were in my kitchen making coffee (she opted for a caramel macchiato and I went for my classic french press black coffee) we bonded over our love for the television show Scandal and how we both own a set of the "Olivia Pope Wine Glasses" but only pull them out for special occasions. As we waited for the sun to set a bit lower in the sky, we talked a lot about Mai Ka, her job, and the importance of going to college. She told me how she graduated from the University of Madison (go Badgers) and how attending college was a pivotal stage in her life, how it gave her time to be on her own and figure out who she was and wanted she wanted. We talked about her relationship with her husband Yia and their love for hiking and traveling. We laughed a lot and it was so fun for me to capture Mai Ka as she talked. This was a big part of the project for me, to capture that natural movement and reactions to how people talk and Mai Ka did it perfectly. Plus it helps that she's so damn photogenic too.
Mai Ka and I have been friends for several weeks, we met through a local Rising Tide Society Facebook group when I commented on a post for second shooting a wedding. I remember finding the post really late at night and wavering on whether I should comment on it. I'd been dealing with anxiety in my business and allowing my fear to hold me back from gaining clients and working alongside others. So when I saw this post for second shooting a wedding I figured if I don't even comment and put myself out there how can I run a successful business and make genuine connections with other photographers? In a rush of courage I pushed back the fear and commented on the post and while I didn't end up receiving the second shooting job, what I did get in return was kind of awesome. I woke up to a message from Mai Ka on Facebook saying how much she loved my work on my website and how she wanted to meet up for coffee to chat more.
I think it's no secret how much I love to hang out and talk over coffee duh! so I immediately said yes. Mai Ka and I met face to face for the first time at MOKA on a Sunday morning. It was early enough in the morning where the coffee shop was empty so sitting and talking was peaceful and quiet. We talked about all things business and cameras and really bonded over a love for film photography. She expressed how she was just starting up her business and had an interest in learning about how to shoot film. So naturally, I offered to teach her all that I knew about shooting film. I remembered when I first started my business and I saw film images, I had to figure it all out by myself. It took years of staying up till the ungodly hours of the night trying to watch classes and read blog posts so that I could become the photographer I knew I wanted to be. It was a long and hard road to get to where I am now so I figured I could at least help one other person in their film/photography journey so it could be a smoother road for them. So I pulled out a pen and one of the napkins on our table and jotted down a bunch of info on it. We started hanging out more after that first meeting, we met once at Olbrich Gardens where I lent her a film camera and taught her how to shoot film as well as how I ship all my film to the lab. We had such a good time walking around, talking, and photographing together and I got to share in her excitement when she received her first film scans back. We then continued to meet up on different occasions to hang out over coffee and to shoot together, one of those occasions being a floral workshop that ended in a beautiful dinner as well as a visit to Devil's Lake Lavender where I photographed both her and her husband Yia.
Mai Ka and I now keep up to date and share images, locations, and stories via facebook messenger. Mai Ka was the first photographer that I had ever really connected with. You hear so often how it's good to build a strong community in this business but I found that every time I'd put myself out there to make connections and friends, it wouldn't work out. I found other photographers would come across as being too competitive and unfriendly, so being able to not only make a friend who is genuine, has so many other things in common with me, and also loves photography was a tremendous blessing. Plus she laughs at all my lame jokes so that's basically an automatic win in my book.
For all your cyber stalking needs you can find Mai Ka here on facebook and instagram. Go follow her. Do it.
Soundtrack
World on Fire • Louis The Child
Photography Details
Lab: PhotoVision Prints
Film: Fuji 400H @ 800 iso
Camera: Pentax 645N
Lens: 75mm @ f/2.8